mastiff, mastiffs, USA, Breeder, Litters, Breedings, Mastiffs, English Mastiffs, mastiff puppies, mastiff puppy, mastiff dogs, mastiff dog breeder alabama

Current Events
New breedings have taken place in August of 2017. If all goes as planned we will have puppies ready for their forever homes the second week of December 2017. Please check out the puppies page to see info on these breedings.






Meet Mountain Top's Boney James or Rufus as we call him. Rufus is pictured below at 9 weeks old. Rufus is a son of our male Sulley. We are very excited to have Rufus and have big plans for him in the future if he turns out like we think he will.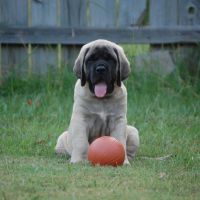 Niko had a beautiful litter of puppies June 04, 2011. We are very pleased how these puppies have turned out and can't wait to see what the future holds for this litter.


Introducing the newest member to our family, Mountain Top's Something Beautiful "Marley" She is a daughter to one of our girls Halo. Marley is pictured above at 8 weeks of age.
This is a picture of Dora winning a winners bitch in Florida for two points. Dora only needs one 3 point major to finish her championship.
We had a great weekend of showing March 18, 19, 2010 with Halo. She won back to back majors and finished her championship in Ky. Terri Smith did a great job showing Halo and we could not have done it with our her.
You can now follow Mountain Top Mastiffs on Twitter, get the day by day up dates on what's going on at Mountain Top Mastiffs and other things we find interesting.

On Sunday September the 27, 09 in Millwood, Va. Halo won the Sweepstakes at the Old Dominion Kennel Club. This was a supported entry show and there where a lot of Mastiffs entered in this Sweepstakes, so we are very proud of Halo for this win.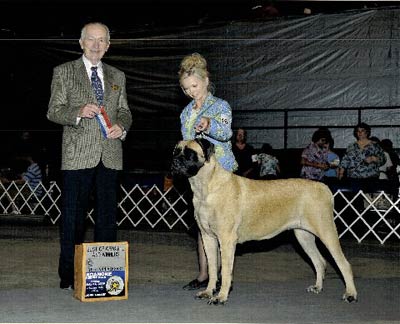 On Friday July 31, 2009 Halo gets her first point in Salem, Va. at the Roanoke Kennel Club under judge Mr. Rodger R. Hartlinger she got WB and BOW.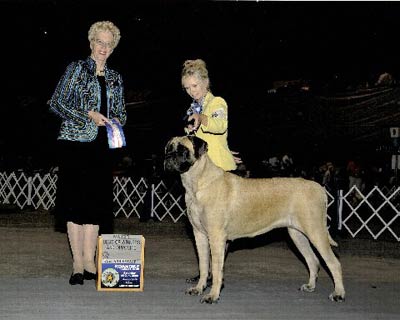 On Saturday Aug 1, 2009 Halo gets her first major win of 3 points at the Salem,Va Roanoke Kennel Club show under judge Ms. Sharol Candance Way.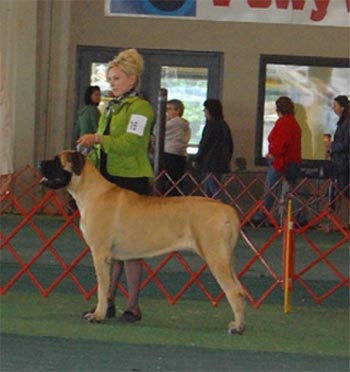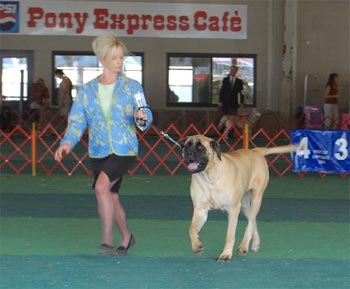 On June 7th 2009 in Fletcher, North Carolina at the Asheville Kennel Club, Halo won her class 12-18 month bitch. She then went on to take reserve winners bitch to a 5 point major. This was Halo's first weekend out to be shown and we feel it was a great start. She was handled by Kim Cooley, who did a great job with her.